I've been wanting to cook this soup for weeks. I was just waiting for the perfect time, when the weather get a little colder, and now it has come!
This is my personal way of cooking it, as I imagined it should be done. I tried to find recipes, but none of them "called my name", so I just figured... what if I do it myself? And this is the result. It's a very delicious soup, and it tasted like lasagna, sometimes a little bit of pizza, as my husband said.
And, you should really give it a try. It's very cozy.
I used:
2 cups beef broth
1/2 cup tomato pasta sauce (I used garlic + herbs)
2 tbsp beef broth bouillon
3 tbsp salted butter
16 oz large curd cottage cheese (500 gr)
1/2 diced purple onion
1/2 tsp pepper
1 tbsp minced garlic
1/2 tsp kosher salt
1 lb ground sirloin (1/2 kg)
1 cup mozzarella cheese
2 diced cheddar smoked sausages (Johnsonville)
2 tbsp basil leaves, crushed
2 tbsp bay leaves, crushed
3 cups cooked pasta
So first, cook around 3 cups pasta as directed in the package MINUS 2 minutes. You can use elbows, tie bows, shells, rotini, flowers (fiori), etc. I used elbows. I usually cook pasta for 13 minutes, except for spaguetti or angel hair, just 11 minutes. So I cooked these elbows for 11 minutes.
Now, melt 2 tbsp butter in a little vegetable oil.
Add the diced onion. Stir for 3 minutes.
Add garlic. Stir for 2 minutes.
Add ground beef.
Stir and when almost cooked, add 1 tbsp beef broth bouillon and pepper.
Stir and add the diced sausage. I forgot to take a picture of that! Now, when meat is cooked, add beef broth and tomato sauce.
Stir and in medium heat, wait until it simmers. Add 1 tbsp butter. Cover and let it simmer for 10 minutes.
Add the cooked pasta. It will finish cooking in the soup.
Stir and let it simmer covered for 3 minutes.
Add the herbs.
Stir and cover for 5 minutes.
Drain cottage cheese (to remove liquids) and add to the soup.
Stir and cover for other 4 minutes.
Top with mozzarella cheese. Cover, remove from heat, and let it sit for 5 minutes before serving.
After 10 min at 300F in the oven.
So take a sip.
And serve one large plate of your soup.
Extra yummy.
Do you wanna try some?
Looking good.
Let me know how it goes!
Any suggestions?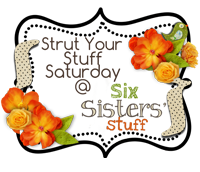 Linking to Six Sisters' Stuff linky party